Data-centric Architecture Forum
Fort Collins, CO | February 1-3, 2021
If you want to participate in an intimate get together for practitioners who are interested in helping shape the nascent Data-centric Revolution (check out and sign our data-centric manifesto), this event is for you.
Our third annual event will be in February 1-3 2021. Here's a quick summary of our 2020 event to give you an idea of what to expect.
When we say, "Data-centric Revolution", what do we mean?
To summarize, this revolution recognizes that the predominant approach to implementing enterprise applications (the "application-centric" approach) is badly broken.  Several practitioners came together over two years ago and founded the "Estes Park Group", which has been meeting on a monthly basis (and growing in membership) since then to begin to put some flesh on the skeleton of an approach we've outlined.
We know of a handful of firms that have adopted something very close to what we have outlined.  We will be exploring what worked and didn't work with them.  We are inviting vendors that have key parts of the puzzle.  Our collective opinion at the moment is that a fully functioning data-centric architecture, available for purchase, does not exist.  We will be outlining what companies will do in the short term to fill this void, and hopefully we can encourage some vendors to take up the task of delivering such an architecture.
The format will be highly interactive; primarily panel discussions with much input from the audience and short vendor demos.
From this simple beginning we believe some of the more profound changes ever to occur to Enterprise Architecture and Enterprise Application space will bloom. Become part of something big.
Come for the conference, stay for the winter sports.
2021 Agenda: TBD
2020 Agenda
Monday (Theme: Getting Data)
Key Note Address 
Natural Language Processing/SPARQL Conversion
TBL SQL
Federation & Virtualization
Tuesday (Theme: Organization & Security)
Role & Rule Based
Security/Block Chain
Entity Resolution
SHACL Constraints
Machine Learning
Micro Services
Model Driven Data/Universal Schema
Wednesday (Theme: Use & Consumption)
Conversational Interfaces
Visualization
Sem Ops

Lymba offers best-in-class Knowledge Management solutions using its proprietary Natural Language Processing technologies to help companies extract value from their text repositories. Critical information hidden in contracts, chat logs, reports, and other documents can be extracted with Lymba's NLP suite and output into a variety of use-friendly formats for further analysis. Lymba's flagship product, K-Extractor™, is trusted by Fortune 500 companies across finance, healthcare, and education industries to help with their AI and Digital Transformations.

timbr SQL Knowledge Graph™ is the knowledge platform that implements the Semantic Web in standard SQL to enable modeling, exploration and query of ontologies that turn big data backends into a knowledge graph, without need of a separate backend and costly ETL operations.
timbr enables modeling of concepts with reasoning capabilities and mapped to the data, to transform data in data-stores of any size, into smart, relationship-rich data, seamlessly accessible to business intelligence solutions, machine learning algorithms and natural language processing applications. Any Semantic Web ontology can be easily transformed by timbr into the SQL ontology, so enterprises can grow their current knowledge base to big data size and enrich it with external data sources and ontologies such as DBpedia, GDELT, social media, news, weather and many others.
Fluree is a data platform that emphasizes data integrity, facilitates secure data sharing, and powers semantic data insights — all in one pluggable stack. Fluree combines a tamper-proof blockchain ledger, semantic graph query engine, linearly scalable query edge servers, and co-resident data security to power next-generation applications.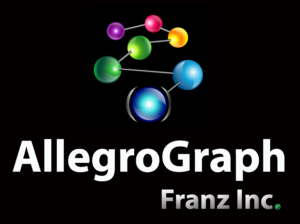 Franz Inc. is an early innovator in Artificial Intelligence (AI) and leading supplier of Graph and Document Database technology with expert knowledge in developing and deploying complex Knowledge Graph solutions.  Franz's Knowledge Graph Platform Solution includes both technology and services for building enterprise-class Knowledge Graphs based on best-of-class tools, products, knowledge, skills and experience. At the core of the solution is Franz's graph database technology, AllegroGraph, which is utilized by dozens of the top F500 companies worldwide and enables businesses to extract sophisticated decision insights and predictive analytics from highly complex, distributed data that cannot be uncovered with conventional databases.
Cambridge Semantics Inc. is a modern data management and enterprise analytics software company that enables seamless access, integration and analysis of all enterprise data via a graph-driven data fabric architecture. Try the free version of AnzoGraph DB graph database (SPARQL*/RDF*) for data harmonization, building knowledge graphs, leveraging graph algorithms, enhancing analytics with inferencing and more. AnzoGraph DB delivers a broadened set of analytical capability, delivered at unparalleled speed and scale.
eccenca is the leading German provider of enterprise knowledge graphs. The company develops data-centric solutions for the integration of heterogeneous, distributed data to address the growing complexity and dynamics of businesses. Enterprises profit from the cross-functional utilization and explicit semantics of formerly siloed data as well as the agile evolution of their data schema. To achieve this eccenca facilitates the vision of an enterprise digital twin of a company's physical, logical and process information landscape. eccenca is listed as TOP 10 GDPR Solution Providers 2019 by CIOApplications and is named Sample Vendor for Digital Supply Chain Twins by Gartner. www.eccenca.com

AppSynergy is a model-driven app development platform. It differs from most similar systems in that it is tightly integrated with its own federated data model which enables rapid development of enterprise apps that have cross-system read-write requirements. The federated data model behaves like a normal SQL database except that it also supports mapping API endpoints to federated tables forming a hybrid database comprised of a mix of normal and virtual tables. The federated virtual tables support normal SQL operations (SELECT/INSERT/UPDATE/DELETE) and dynamically translate SQL commands into live API calls. The model-driven app development platform running on top of the federated data model is deeply schema aware and provides a complete set of UI widgets optimized for enterprise cloud app development. AppSynergy Professional Services provides turn-key application development services based on the platform.
We recommend flying into Denver International Airport, which is about an hour to an hour and a half drive from there to Fort Collins. Groome Transportation provides door-to-door service from and to the airport. Book your shuttle ride today.
Our event location is TBD
2019 Agenda
Monday AM
Data-centric Architecture Straw Man Presentation – We have outlined what we believe to be the key components a system must handle at the architectural level (these are mostly concerns that are currently implemented repeatedly and inconsistently at the application-layer now).
Panel on the State of the DCA Industry (Panel) – Panelists will kick off with a few prepared remarks on their opinions of the current state of the industry.  We'll shift into a moderated audience driven Q&A.  The intent is to prepare a shared statement in consensus with the attendees on the current state, challenges, problems to be solved, and the like.
Monday PM
The Business Case for DCA (Panel) – This session will attempt to construct a template, spreadsheet or document that can be used to help sponsors of a DCA lay out the case in business terms.
Low Code / No code – We have observed that many of the extant data-centric implementations have relied on model-driven development, or what Gartner calls "low code / no code" environments.  We plan to have three vendors each present 20 minute sessions on their offerings in this area.
Tuesday AM
Metadata Management in DCA (Panel) – Some of the DCA environments we have seen are primarily metadata management environments, and all DCA has an important metadata component.  This will be a moderated panel discussion with potential demos of different approaches to managing metadata in a DCA style environment.
Security (Panel) – Virtually everyone we've surveyed agrees that security is one of the key issues for this type of architecture.  As we shift the focus of control for authorization from the application to the architecture there will be some profound changes.  We will have a combination of demos followed by interactive discussion of approaches to this key part of the architecture.
Tuesday PM
Case Studies –There are existing Data Centric Architectures out there that we can learn from.  This session will be a presentation of key architecture issues, demos, and Q&A.
Knowledge Graphs and Graph Databases  – Many of the data-centric solutions developed to data have been based on graph databases and/or knowledge graphs.  While this is not essential, we plan to explore this, along with demos of vendor products.
Wednesday AM
Implementation Strategies (Panel) – How to get from application-centric to data-centric.  We know it can't be done in a "big bang", so this session will be a panel discussion of pros and cons of viable strategies.
Governance (Panel) – It is expected that data-centric architectures will have two characteristics that raise the bar for governance: there will be a much higher rate of sharing of information as well as models, which increases the coordination costs, and at the same time one of the goals is to create architectures that are easier to change, therefore increasing the velocity of change.  This session will explore ways for attacking these twin challenges.
Refund Policy: If you need to cancel your registration, we will refund 50% of fees if you cancel two weeks or more prior to the event.