Data-Centric Architecture Forum
Fort Collins, CO | February 1-3, 2021
NOW A VIRTUAL EVENT!
When: February 1-3, 2021
Where: Virtually
Here's a quick summary of our 2020 event to give you an idea of what to expect.
When we say, "Data-Centric Revolution", what do we mean?
This revolution recognizes that the predominant approach to implementing enterprise applications (the "application-centric" approach) is badly broken.  Several practitioners came together a handful of years ago and founded the "Estes Park Group", which has been meeting on a monthly basis (and growing in membership) since then to begin to put some flesh on the skeleton of an approach we've outlined.
We know of a handful of firms that have adopted something very close to what we have outlined.  We will be exploring what worked and didn't work with them.  We are inviting vendors that have key parts of the puzzle.  Our collective opinion at the moment is that a fully functioning data-centric architecture, available for purchase, does not exist.  We will be outlining what companies will do in the short term to fill this void, and hopefully we can encourage some vendors to take up the task of delivering such an architecture.
Due to COVID-19, we will be holding the 2021 Data-Centric Architecture Forum virtually. The format will be highly interactive; primarily panel discussions with much input from the audience. Engagement is a cornerstone of our annual event and you will be able to participate in an immersive and captivating experience through a dynamic virtual platform.
We believe some of the more profound changes ever to occur to Enterprise Architecture and Enterprise Application space will bloom. Become part of something big.
What to Expect
Day 1: Data-Centric Focus
What is Data-Centric?
How to Apply Data-Centric Values: Lowering Barriers to Entry
Panel: How to Make the Data-Centric Transformation + Lessons Learned
And More!
Day 2: Technology
Extending RDF to Include Time & Truth
Authorization
Entity Event Modeling
And More!
Day 3: Future of Data-Centric
Semantic Professional Development
Bringing Data-Centricity to the Automotive Industry
Overcoming Applcation-Centric Intertia
And More!
As an active Ontologist practitioner and thought leader in information architecture, Mike's master's in philosophy of Mathematics has served him well at formidable financial organizations like Goldman Sachs, Credit Suisse, and Bank of NY Mellon.  Currently at Morgan Stanley, his extensive experience uses of ontologies and semantic technology for search, data governance, integration, and machine learning continues to spawn innovation in data management.
Jans Aasman is a Ph.D. psychologist and expert in Cognitive Science - as well as CEO of Franz Inc., an early innovator in Artificial Intelligence and provider of Knowledge Graph Solutions based on AllegroGraph.  As both a scientist and CEO, Dr. Aasman continues to break ground in the areas of Artificial Intelligence and Knowledge Graphs as he works hand-in-hand with numerous Fortune 500 organizations as well as government entities worldwide.
Brian is the Co-CEO and Co-Chairman of Fluree, PBC, a new decentralized app platform that will forever transform how business applications are built. FlureeDB is the first true blockchain database with a powerful RDF based semantic knowledge graph serving as its engine for infinite scalability incorporating:
Sophisticated graph queries with built-in features like infinite recursion
W3C standards allow for semantic queries across RDF repositories
Easy and familiar query languages: SPARQL, GraphQL, and FlureeQL (JSON)
Linearly scalable as a CDN (content delivery network)
Prior to starting Fluree, Brian co-founded SilkRoad technology which grew to over 2,000 customers and 500 employees in 12 global offices.
Fluree is a data platform that emphasizes data integrity, facilitates secure data sharing, and powers semantic data insights — all in one pluggable stack. Fluree combines a tamper-proof blockchain ledger, semantic graph query engine, linearly scalable query edge servers, and co-resident data security to power next-generation applications.

PoolParty is a semantic technology platform developed and licensed by the Semantic Web Company GmbH.
The company supports over 180 organizations, including over 50 Forbes Global 2000 companies, in the development of semantic AI solutions based on knowledge graphs. The Vienna-based company has been a pioneer in the field of the Semantic Web for over 15 years and has subsidiaries in the US and in the UK.The PoolParty semantic suite of products offers different features that help organizations extract more value from their data.
Find out more about these product use case applications here. 

Lymba offers best-in-class Knowledge Management solutions using its proprietary Natural Language Processing technologies to help companies extract value from their text repositories. Critical information hidden in contracts, chat logs, reports, and other documents can be extracted with Lymba's NLP suite and output into a variety of use-friendly formats for further analysis. Lymba's flagship product, K-Extractor™, is trusted by Fortune 500 companies across finance, healthcare, and education industries to help with their AI and Digital Transformations.

timbr SQL Knowledge Graph™ is the knowledge platform that implements the Semantic Web in standard SQL to enable modeling, exploration and query of ontologies that turn big data backends into a knowledge graph, without need of a separate backend and costly ETL operations.
timbr enables modeling of concepts with reasoning capabilities and mapped to the data, to transform data in data-stores of any size, into smart, relationship-rich data, seamlessly accessible to business intelligence solutions, machine learning algorithms and natural language processing applications. Any Semantic Web ontology can be easily transformed by timbr into the SQL ontology, so enterprises can grow their current knowledge base to big data size and enrich it with external data sources and ontologies such as DBpedia, GDELT, social media, news, weather and many others.
Fluree is a data platform that emphasizes data integrity, facilitates secure data sharing, and powers semantic data insights — all in one pluggable stack. Fluree combines a tamper-proof blockchain ledger, semantic graph query engine, linearly scalable query edge servers, and co-resident data security to power next-generation applications.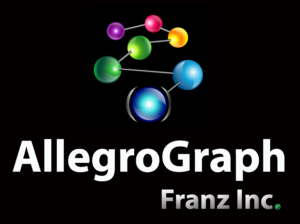 Franz Inc. is an early innovator in Artificial Intelligence (AI) and leading supplier of Graph and Document Database technology with expert knowledge in developing and deploying complex Knowledge Graph solutions.  Franz's Knowledge Graph Platform Solution includes both technology and services for building enterprise-class Knowledge Graphs based on best-of-class tools, products, knowledge, skills and experience. At the core of the solution is Franz's graph database technology, AllegroGraph, which is utilized by dozens of the top F500 companies worldwide and enables businesses to extract sophisticated decision insights and predictive analytics from highly complex, distributed data that cannot be uncovered with conventional databases.
Cambridge Semantics Inc. is a modern data management and enterprise analytics software company that enables seamless access, integration and analysis of all enterprise data via a graph-driven data fabric architecture. Try the free version of AnzoGraph DB graph database (SPARQL*/RDF*) for data harmonization, building knowledge graphs, leveraging graph algorithms, enhancing analytics with inferencing and more. AnzoGraph DB delivers a broadened set of analytical capability, delivered at unparalleled speed and scale.
eccenca is the leading German provider of enterprise knowledge graphs. The company develops data-centric solutions for the integration of heterogeneous, distributed data to address the growing complexity and dynamics of businesses. Enterprises profit from the cross-functional utilization and explicit semantics of formerly siloed data as well as the agile evolution of their data schema. To achieve this eccenca facilitates the vision of an enterprise digital twin of a company's physical, logical and process information landscape. eccenca is listed as TOP 10 GDPR Solution Providers 2019 by CIOApplications and is named Sample Vendor for Digital Supply Chain Twins by Gartner. www.eccenca.com

AppSynergy is a model-driven app development platform. It differs from most similar systems in that it is tightly integrated with its own federated data model which enables rapid development of enterprise apps that have cross-system read-write requirements. The federated data model behaves like a normal SQL database except that it also supports mapping API endpoints to federated tables forming a hybrid database comprised of a mix of normal and virtual tables. The federated virtual tables support normal SQL operations (SELECT/INSERT/UPDATE/DELETE) and dynamically translate SQL commands into live API calls. The model-driven app development platform running on top of the federated data model is deeply schema aware and provides a complete set of UI widgets optimized for enterprise cloud app development. AppSynergy Professional Services provides turn-key application development services based on the platform.